Job Opportunities
To work as a Personal Assistant, it is essential that you have a genuine interest and sense of care for others, exceptional communication skills and the ability to understand what the role entails and to follow instructions. All care staff are expected to have or undertake FETAC level 5 qualifications on appointment. A typical Healthcare Support QQI FETAC level 5 course would be made up of 8 components (subjects/modules) also known as 'minor awards'.
If you have experience in care provision, have access to transport and you think you have what it takes, we would like to hear from you. Please note flexible availability is essential. We offer excellent rates (€12.50 standard per hour and €19.00 unsocial per hour) and all the support you need to fulfil your role. To help you decide if working for Limerick CIL is for you, please read this document: Personal Assistant Job Description (Adobe Acrobat Reader)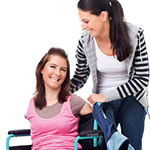 We are constantly updating our job seekers database so that it includes only relevant CVs and applications from candidates who have experience in care provision. If you wish to be included on our database, simply fill out application form and email with CV to info@limerickcil.com

We are currently recruiting for part time (10 hours per week) PA's in the Cappamore and surrounding area.
You must have a relevant experience and have (or working towards) your Fetac Level 5 in Healthcare Skills qualification.
HOW TO APPLY: Simply fill out application form and email with CV to info@limerickcil.com
West Limerick Independent Living is an Equal Opportunities Employer